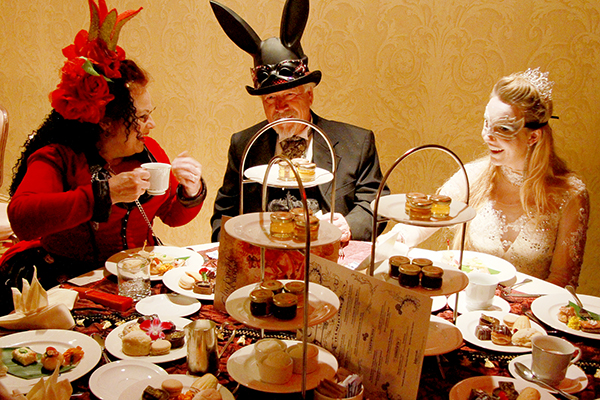 The Royal Tea Room
at the Labyrinth Masquerade 
The Royal Evening Tea Service in the Throne Room is a chance for our noble patrons to sit down and unwind their gears and enjoy a delicate menu offered by the Royal Kitchens.
Only a limited amount of spaces are available. Reserve your ticket online, once at the venue check in by visiting the Tea Promenade in the Throne Room for your time slot. 

Only a limited amount of Friday tickets remain!

The Royal Throne Room
THE ROYAL THRONE ROOM
While the energy is high throughout the venue and the world is quite elaborate, in the Royal Throne Room we set a different pace, adding more space for patrons for dancing and waltzes throughout the night.
In the Tea Promenade, our lovely royal servers will be doting upon patrons throughout the night. Seats and times for tea service are limited so this experience will require reservations; there is no guaranteed open seating the nights of the event.
Tea Room Menu
Each year the menu is created by Sypher's Royal Culinary Team and Chef de Cuisine, Justin Bastian. You will be treated to custom tea blends made exclusively for Sypher's Court.